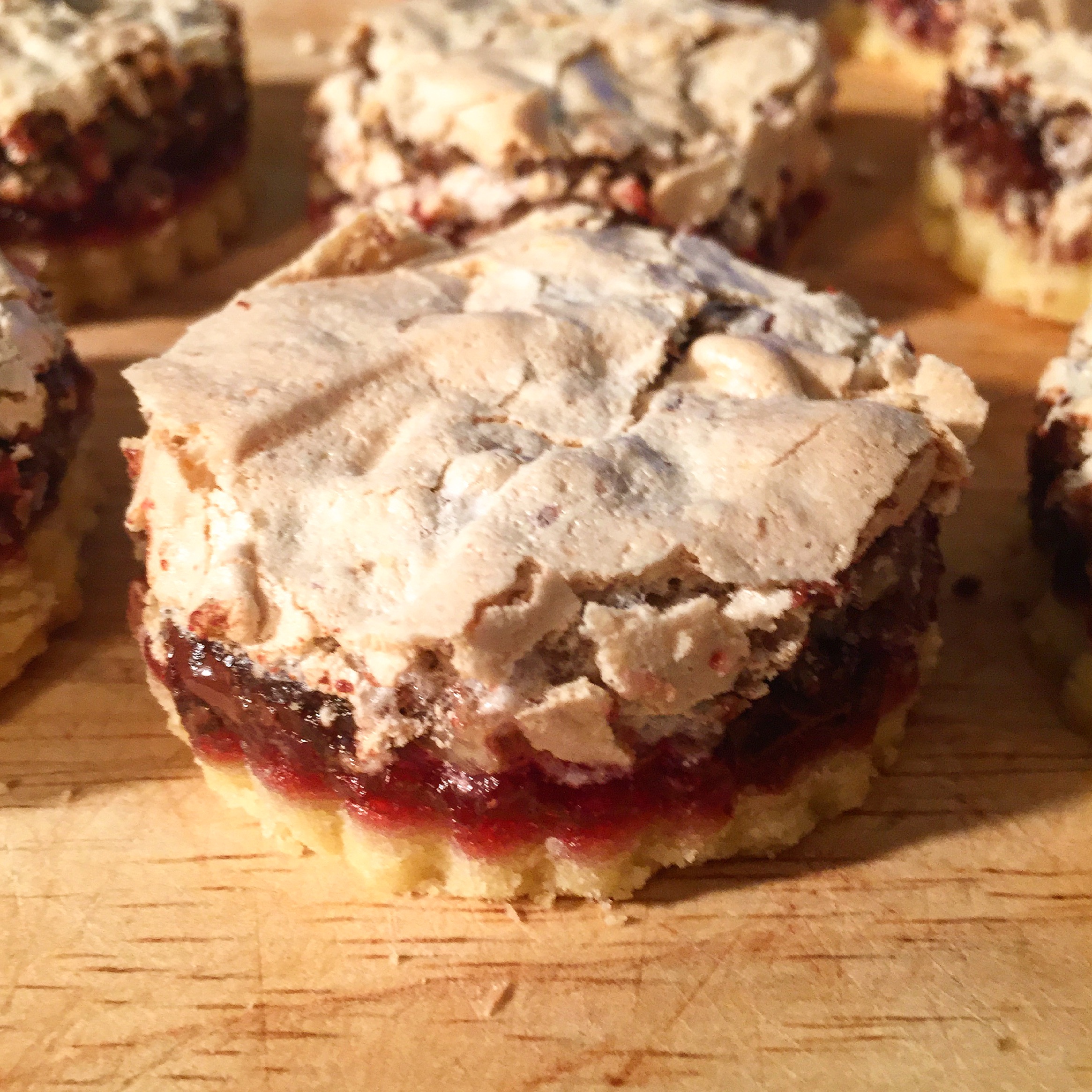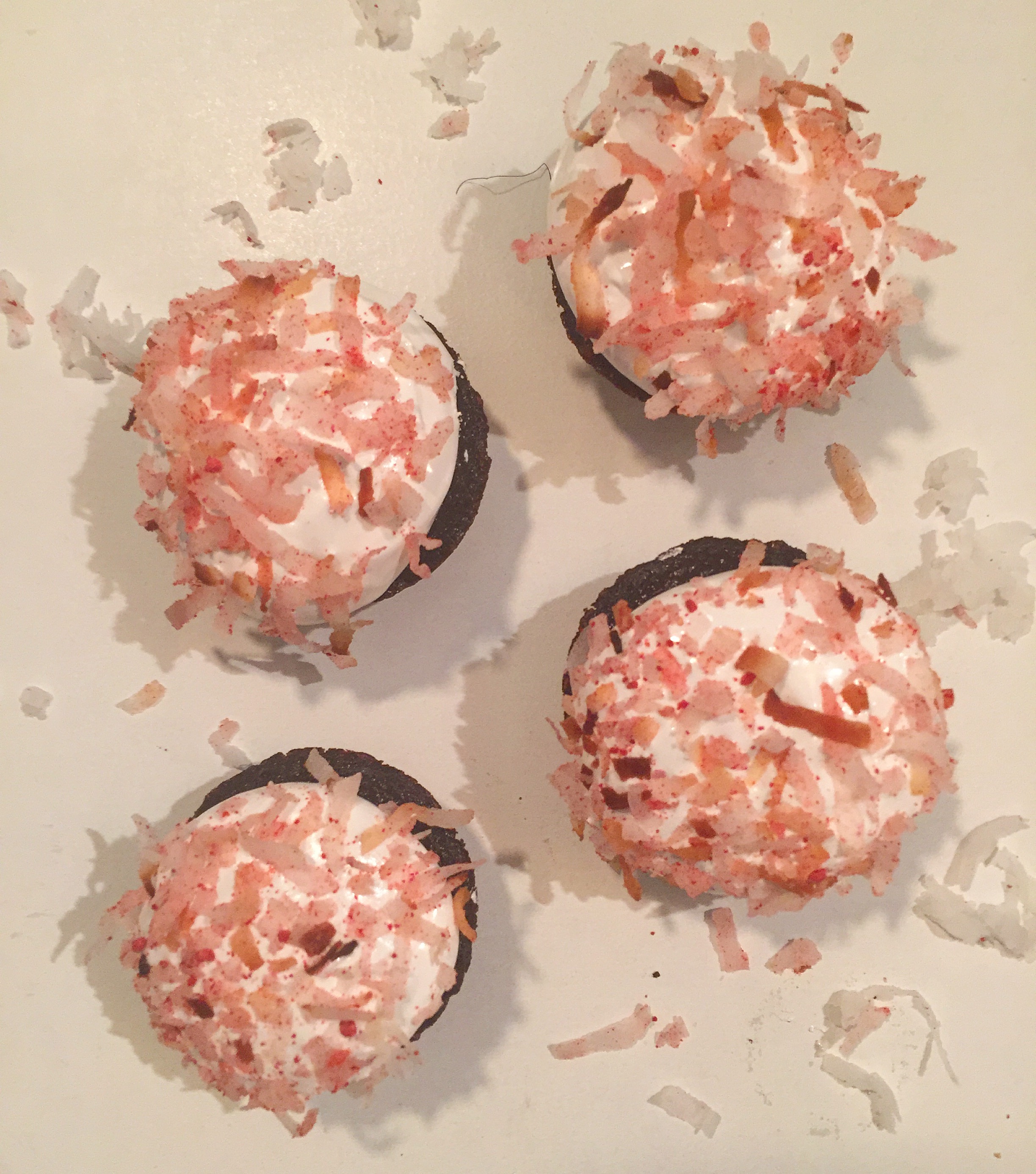 DAY ONE: AMARETTI
16 oz. almond paste
1 cup gluten-free AP flour
4 large egg whites
1 cup granulated sugar
1 cup confectioners sugar
1 teaspoon pure almond extract
1 cup sliced almonds
Preheat oven 350 degrees. Line cookie sheets with parchment paper.
In the bowl of a standing mixer fitted with paddle attachement, place almond paste, flour, and sugars. Mix until sandy texture. Add egg whites and almond extract, and mix on high for ~5 minutes.
Fill pastry bag fitted with medium star or round tip with batter, and pipe small 1.5 inch mounds. Sprinkle generously with sliced almonds. Bake 15-20 minutes till golden. Cool for 10 min. before removing to a wire rack and cool completely. Store in airtight container. Makes ~35 cookies. ENJOY! On this 1st day of #13daysofXmasCookies
DAY 2: CHOCOLATE KISS
1 cup butter
1 cup sugar
2 tsp vanilla
1 2/3 cup flour
1/2 cup cocoa
1 cup pecans, chopped finely
1 1/4 70% chocolate feves
1 tsp salt
Confectioner's sugar
Cream butter, sugar, vanilla until very fluffy.
Combine flour, cocoa, salt and add to creamed mixture. Add pecans. Beat on low spead until just combined. CHILL AT LEAST ONE HOUR IN FREEZER.
Shape a small ball of dough. Push 3 halves of feves (so 1.5 feves total) into dough and roll in hands to completely cover chocolate. Place on cookie sheet lined with parchment paper at 375 degrees F. for about 8 minutes. Dust with powdered sugar.
DAY 3: TARTLETTE AU CITRON
FROM GOOGLE TRANSLATE FOR SEBASTIEN GAUDARD'S RECIPE (BAKERY IN PARIS):
Serves 6:
Preparation and cooking time: 30 min cool 3 h 30 min
6 9 cm tart or pie of 22 cm in diameter
Lemon Cream:
Zest of 3 lemons fresh 4 eggs (200 g), 220 g caster sugar, 16 cl fresh lemon juice (160 g), 300 g butter at room temperature.
Sweet pastry:
100 g fresh butter
flour 170g
65g icing sugar
30g almond powder
2 pinches of fine salt
1 tip of knife vanilla powder
1 small egg
1 Prepare a sweet paste.
Knead the butter, then add the ingredients one by one: the icing sugar, almond powder, fine salt, vanilla, egg and flour. Do not overmix the dough in order to preserve its sandy texture.
Keep cool in plastic wrap for 1 hour.
2 Preheat the oven to 160 ° C (th.5 / 6). Spread the paste on 2 mm thick with a rolling pin and cut a disc of dough 3 cm larger than the mussels. Arrange dough in pan, prick the pie crust with a fork. Let the tart garnished dough rest in refrigerator 30 minutes minimum. You will be left of the dough: it is possible to put it in your freezer stretch film.
Slide your pie in the oven for 12-15 minutes at 160 ° C (th.5 / 6).
3 In a bowl, grate the lemon peels in granulated sugar. Add the eggs and lemon juice. Place the bowl over a pan of simmering water and cook on low heat this preparation, stirring occasionally, absolutely avoiding boiling.The cream is cooked when it is creamy and a finger on the past leaves its mark there spatula. Filter through a fine sieve and then cool to lukewarm bath. Gradually add the butter at room temperature by mixing with a blender for 5 minutes to obtain a smooth cream. Pour into a baking dish and let cool in refrigerator for 3 hours.
4 Garnish with lemon cream tart shells with a spatula. Reserve in refrigerator until ready to serve.
The Board of Sébastien Gaudard:
"To bring power and length on the palate with the aroma of this dessert, you can add some fresh lemon zest at the time of tasting. "
List of utensils:
bath -casserole
-saladier (to put on the pan)
-fouet
plunging -Mixeur
-a Chinese
-two-containers rolling pin
Acknowledgments :
La Pâtisserie des Martyrs:
22, rue des Martyrs 75009 Paris
Tel. : 01 71 18 24 70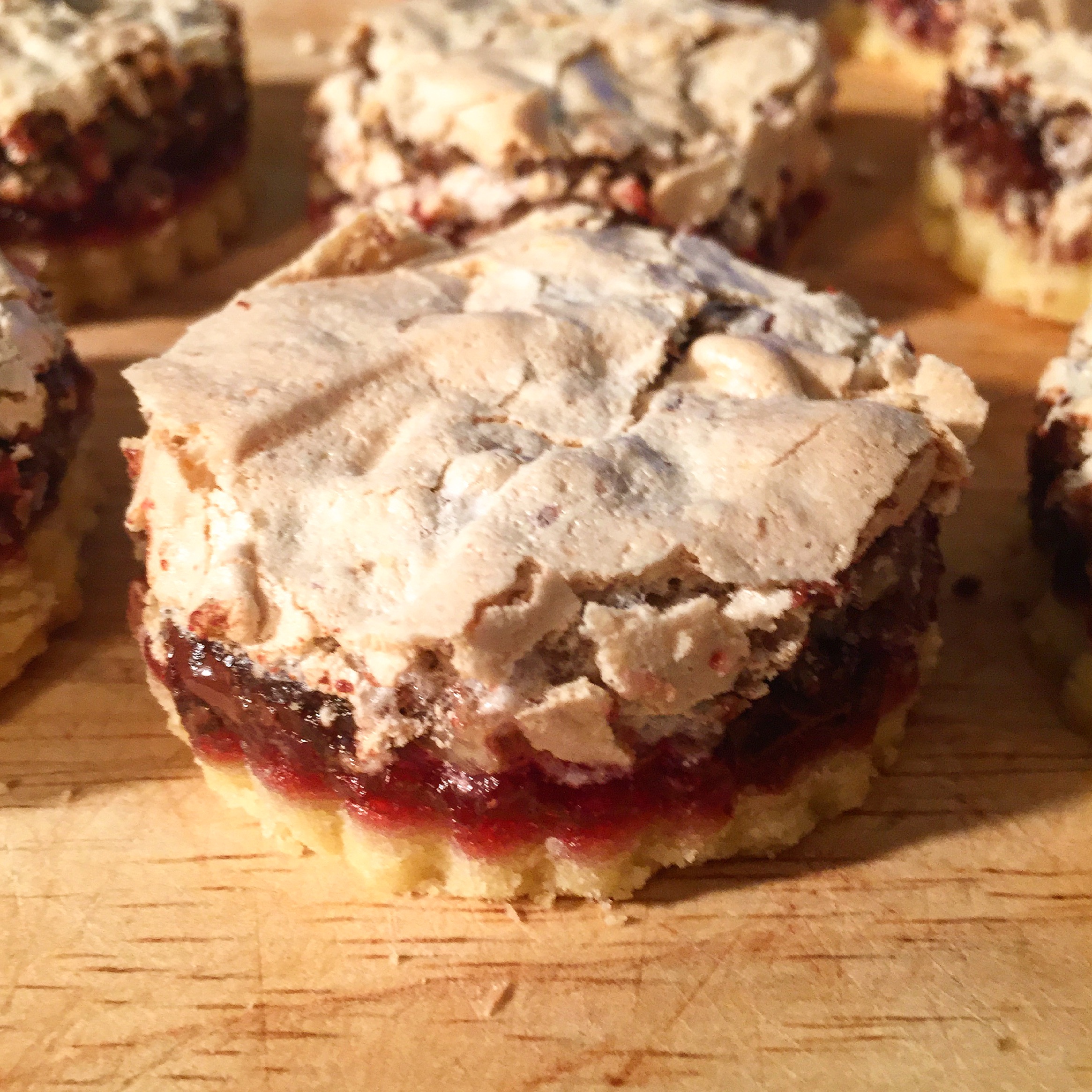 DAY 4: NANCY REAGAN VIENNA BARS
As transcribed EXACTLY from my grandmother's (Margaret Olsen) recipe card (she got the recipe from my Aunt Celeste):
2 sticks Butter
1 1/2 c. sugar (I use 1 cup) ((note: I actually did use 11/2 cups))
2 egg yolks
21/2 c. flour ~1/4 t. salt
1-10 oz. jar (apricot, strawberry, or raspberry Jam) ((I made my own raspberry preserves. Put 1 pint raspberries plus 1 cup sugar in a heavy-bottomed saucepan, mash with a potato masher, heat until it comes to a boil. Place mixture through a sieve, discard seeds. (It's ok to leave some in there!) Put mixture back on heat. Make sure to stir constantly. Heat until mixture reaches 215 degrees F - about 15 minutes.))
1 cup choc. chip bits semi-sweet (did not use) ((I USED! 70% chocolate))
4 egg whites (I use 3) ((I USED 4))
-----------------------------------------------------------------------------------
Cream butter - 1/2 c. sugar 2 egg yolks. Add the flour and salt & knead. Has to be placed or patted into pangrease it well Bake in 350 degree for 15 to 20 min light golden brown
then remove from oven & immediately using spatula spread the jam on top evenly - (add choc bits, if desired)
Next smooth over the 3 whites ((I USED 4)) which have been whipped stiff with 1/2 cup sugar ((I USED 1 cup)) - and have add the 1 cup chopped nuts - Bake 350 oven 25-30 min Cool 10 min then cut into small squares (48) - let stay in pan another 35 min. Remove carefully onto ((Illegible)). Delicious!
* I used my jelly roll pan - 11x12" 3/8" (illegible)
DAY 5: THE LACE COOKIE
My Mom had the Betty Crocker Cooky Book when I was a kid, and I used to thumb through it and DROOL at all the photos of the cookies that lined the bottom of each page. The Butterscotch Lace cookie was one of them.
1 cup butter
1 1/2 cups brown sugar (I used half dark, half light)
2 1/4 cups old-fashioned oats
1 large egg, room temperature
1/2 teaspoon salt
1 tablespoon molasses
1 1/2 teaspoon vanilla
Melt butter. Add brown sugar. Pour mixture over oatmeal and make sure all oats are coated. Let sit overnight or for at least 8 hours. When ready, preheat oven to 375 degrees F. Line cookie sheet with greased parchment paper. In separate bowl, whisk together egg, salt, molasses, vanilla, and flour. Add to oatmeal and mix.
Place rounded teaspoon of batter on cookie sheet 2 inches apart. Dot with pomegranate seed and a couple of macadamia nuts. Bake for ~7 minutes, or until a dark golden brown. Let cool on cookie sheet.
ENJOY!
DAY 6: SOUR CREAM MINI DOUGHNUT
DAY 7: SUGARED GINGER COOKIE WITH WHITE CHOCOLATE
3/4 cup butter (European style)
1 cup sugar
1/4 cup molasses
1 1/2 teaspoon vanilla
1 teaspoon fresh grated ginger
2 1/4 cup all-purpose flour
2 teaspoons (dry) ginger
1 teaspoon baking soda
3/4 teaspoon cinnamon
1/2 teaspoon ground cloves
1/2 teaspoon kosher salt
1 cup demerara Sugar
10 ounces fine white chocolate (I use Callebaut)
Preheat oven to 350 degrees F. Line cookie sheets with parchment paper. Combine/hand-whisk all dry ingredients, set aside.
In a standing mixer, cream together (room temperature!) butter and sugar until light and very fluffy. Add (room temperature) egg, vanilla, fresh ginger,and mix well.
Slowly add (on low speed) dry ingredients until fully combined.
With a Tablespoon cookie scoop, scoop and level dough. Roll each portion into a ball and roll in Demerara sugar.
Place cookie dough batter balls in freezer for at least 30 minutes.
Bake for 8-10 minutes. At 6 minute mark, press down into balls with circular dowel to imprint circle in center.When cookies are done, imprint circle in center of cookie again.
Melt white chocolate couveture over a bain marie - making sure it's fully melted but keep a eye on it because white chocolate burns very easily! When fully melted and cookies are fully cooled, spoon white chocolate into centers.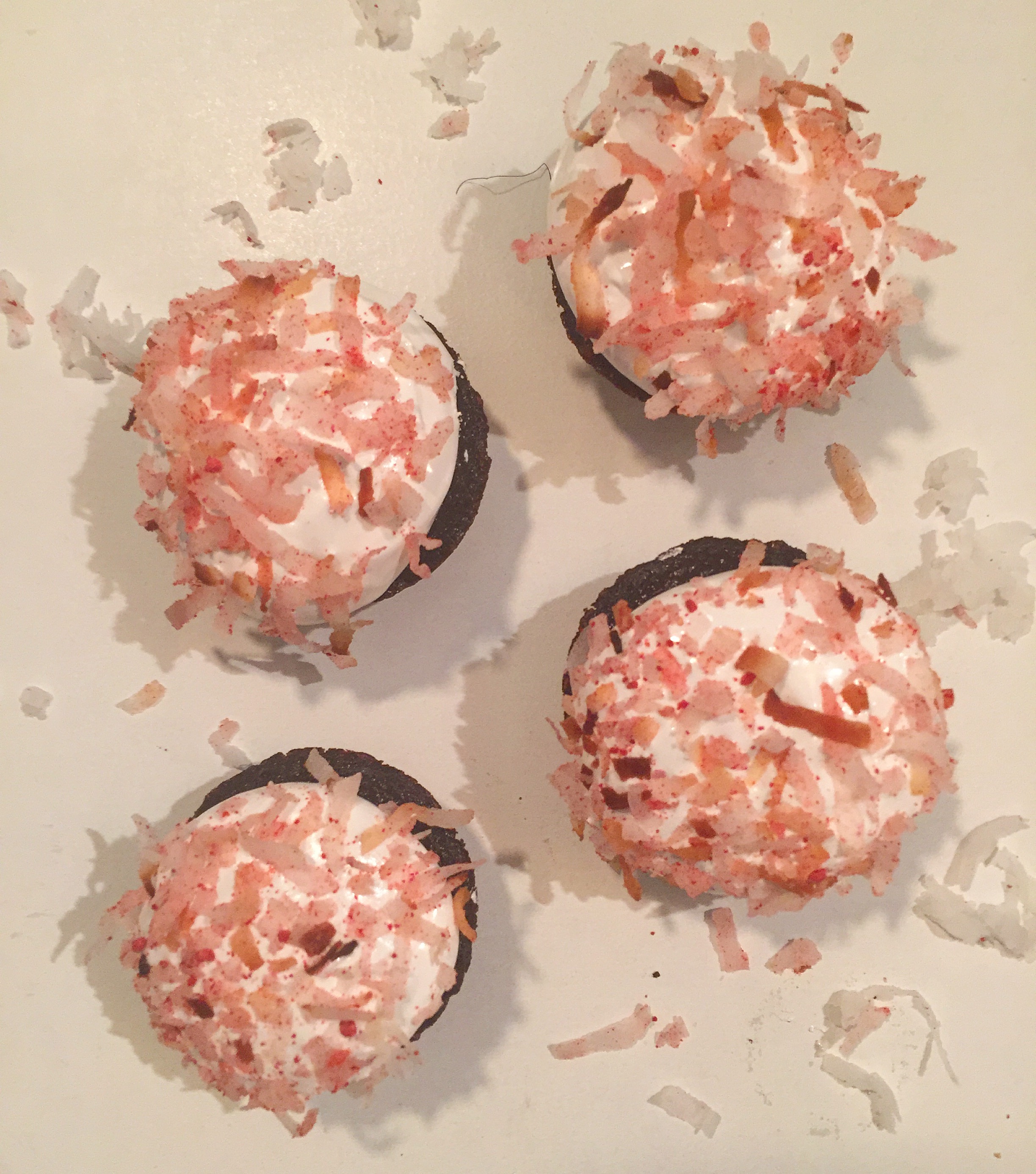 DAY 8: SNOWBALL
Toasted Coconut
1 cup shredded coconut (sweetened or unsweetened depending on your taste
2 Tablespoons dehydrated strawberry powder (can be found online)
Preheat oven to 350 degrees F. Spread thin layer of coconut on a baking sheet for about 10 minutes. Spread thin layer on sheet and make sure to stir about 5 minutes in. When cooled, sprinkle strawberry powder on top of toasted coconut and mix throughly with hands. Set aside.
Chocolate cake base (adapted from Miette Bakery):
2 ounces 70% chocolate, coarsely chopped
1 cup boiling water
1 cup buttermilk
1 teaspoon vanilla
7 ½ ounces all-purpose flour
4 ½ ounces unsweetened natural cocoa (non-alkalized)
1½ teaspoon baking soda
½ teaspoon baking powder
1 teaspoon kosher salt
2 eggs (room temperature)
½ cup canola oil
16 ounces granulated sugar
1. Preheat oven to 350 degrees. Prepare mini custard tins (if you can find round ones, all the better!); grease lightly. Place on cookie sheet.
2. Add boiling water to chopped chocolate in small bowl, whisk together and set aside, allowing it to come to room temperature. Whisk together buttermilk and vanilla in a small bowl and set aside. Measure out the dry ingredients (flour, cocoa, baking soda, baking powder, salt) except sugar and sift together in a medium-sized bowl. Set aside.
3. In a stand-up mixer with whisk attachment, mix eggs on high until foamy — about 1½ minutes. Lower the speed of the mixer to low and pour oil into mixing bowl, mixing on low until incorporated. Raise speed to medium and continue to mix eggs and oil for 30 seconds. Lower speed to low, slowly add the chocolate/water mixture and mix until incorporated. Then slowly add the buttermilk/vanilla mixture, mixing until incorporated. Add the sugar to the mixture, mixing until smooth and fully incorporated, on low speed, for about 2 minutes.
4. Turn off mixer and add sifted ingredients. Fold the dry ingredients into batter only until just incorporated. The batter will be very lumpy. Pour batter into medium-sized sieve, pressing with a rubber spatula, into a large bowl.
5. Let the batter sit for a few minutes, then carefully place into cupcake liners (preferably pipe), about ⅔ full.
6. Bake for about 10 minutes, rotate pan half-way through baking.
7. Let cool for only a couple of minutes - take out of tins fairly soon after taking out of oven, otherwise they'll stick. Then allow to cool on wire rack thoroughly.
Marshmallow Creme (adapted from Chowhound)
3/4 cup granulated sugar
1/2 cup light corn syrup
1/4 cup water
1/8 teaspoon fine salt
2 large egg whites, at room temperature
1/4 teaspoon cream of tartar
1 1/2 teaspoons pure vanilla extract
1. Stir together the sugar, corn syrup, water, and salt in a small saucepan over high heat. Bring to a boil, stirring occasionally, until the mixture reaches 240°F on a candy thermometer.
2. Place the egg whites and cream of tartar in the bowl of a stand mixer fitted with a whisk attachment. Start whipping the egg whites to soft peaks on medium speed. (The goal is to have the egg whites whipped and ready, waiting for your syrup to be drizzled in. If they're whipping faster than your syrup is coming to temperature, just stop the mixer until the syrup is ready.)
3. When the syrup reaches 240°F, reduce the mixer speed to low and slowly drizzle about 2 tablespoons of syrup into the egg whites to warm them. (If you add too much syrup at once, the whites will scramble.) Slowly drizzle in the rest of the syrup. Increase the speed to medium high and whip until the marshmallow crème is stiff and glossy, about 7 minutes. Add in the vanilla and whip 2 minutes more. Use immediately or refrigerate stored in an airtight container for up to 2 weeks.
TO ASSEMBLE SNOWBALL: Fit pastry bag with medium round tip. Fill with marshmallow creme. Pipe round shape onto mini chocolate cakes. Dip tops of cakes piped with marshmallow into tinted coconut.
DAY 9: MINI MASCARPONE CHEESECAKE
DAY 11: SALTED DARK CHOCOLATE COVERED GRAHAMS